Welcome to
ID SANGYO

at Osaka city!
Since our establishment in 1973, our company has expanded our business with the development and production of precision molded parts and we have branched into the fields of inserted molded items, secondary processing/assembly processing as well we the sales of related products.
"I" and "D" in our company name mean "idea" and "industrial design". In order to make full use of our know-how, I would like to help from the development stage.
From prototype to manufacture / purchase, please consult us from the stage of idea.
Let us realize your vision together!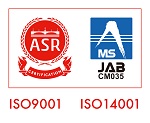 About "Molding Manufacturing", in order to improve quality and customer satisfaction, we achieved ISO9001 and ISO14001 in 2006, and we have been working even now.
We will continue to improve quality and customer satisfaction in the future. In addition, we will continue to introduce, maintain and improve our environmental management system to fulfill our mission of contributing to global environmental conservation.